In Memoriam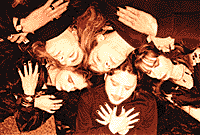 Chriss Lee is not Dead
Now that you're Dead

THIS PAGE IS NO LONGER UPDATED - I DON'T GIVE A SHIT WHO DIED
Highway death was Suicide - 4/07/98 - Montréal
"The remains of a 43 yr. old woman were found on Highway 15, near the Atwater exit. At first, Police believed she had been thrown out of a car - but received phone calls saying she had been seen walking along the highway. Several drivers had driven over the woman but didn't stop because they didn't know what they had hit. It is estimated that 7or 8 cars ran over her before police got to the scene."
Relationships with Cemeteries
Funeral Homes In Quebec & Canada
"live" Funeral via the net - How to make a will ...en français
"Quebec is among the industrialized countries with the highest mortality rates for men from cancer, suicide and the cumulative incidence of AIDS." - 9/10/97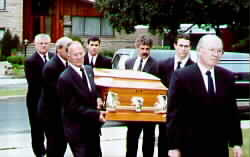 Cremation is performed in 31% of all deaths in Quebec
St. Seraphim Cemetery - Rawdon, QC
---
*Sorry I haven't been keeping up with recent deaths

Andre (Dédé) Fortin - founder and lead singer of the local Quebec rock group
Les Colocs stabbed himself to death on May 10th, 2000. He was 38.
Christian Vézina - local film techie, found beaten to death on May 12th, 2000,
His body was found by a passer-by on Clark street - age 34.
His Killer(s) are still being sought.
David Strickland - Suddenly Susan co-star - committed suicide by hanging
himself in a Las Vegas motel March 22nd 1999 at the age of 29.
Gaétain Girouard - Popular J.E. TVA Host - committed suicide
in his St-Foy Home on January 14th, 1999 at the age of 33.

David L. Macleod - 1944-1998 - On Dec. 6th, the fugitive film producer
(Reds) and convicted pedophile was found dead with a can of lighter fluid in
his hand on a downtown Montreal street.
Pauline Julien - May 23rd, 1928 - October 1st, 1998
Nationalist Quebec chanteuse - Suicide
Phil Hartman - 1948 - 1998
Killed by his wife in his sleep
Wendy O Williams - 1949 - 1998
Shock Rocker from the Plasmatics - Suicide
Nick Auf Der Maur - April 9th, 1942 - April 7th, 1998
Respected Montreal Journalist and father of Melissa, bassist in HOLE.
See also: Kurt Cobain's Suicide Note
Jean Maurice Levesque - May 22nd, 1941 - January 13th, 1998
The man who once said to me - "I thought you were dead"

Québecois director Jean-Claude Lauzon - age 43 - Léolo,
actress Marie-Soleil Tougas - age 27 - (Jasmine) died in a a fatal
plane crash on August 10th, 1997 in Northern Québec, while on
a fishing vacation. This is a great loss... They will be dearly missed.
You can visit their tribute page Hommage...en français
Princess Diana Killed in Paris Car Crash
30/09/97....Report by CNN